Premium Fingerprint & Card Recognition Terminal
Elegance and Sleek Premium Design
Card & Fingerprint Recognition Terminal
Premium Fingerprint & Card Recognition Terminal
Elegance and Sleek Premium Design
Card & Fingerprint Recognition Terminal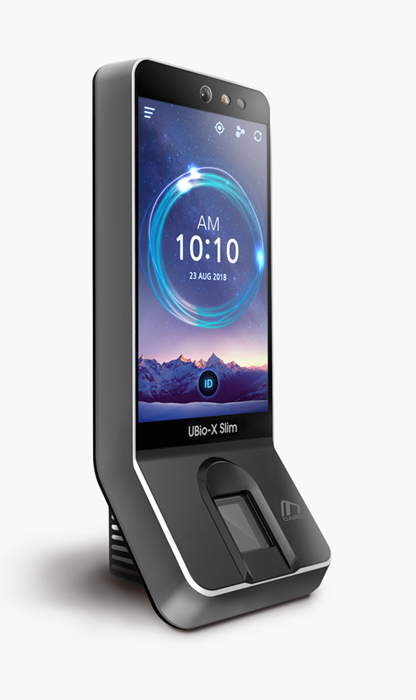 The Best Performance
in the World
The UBio-X Slim is equipped with high-performance
Quad Core CPU, 1.4GHz, 2GB RAM & 8GB of flash memory.
Implementing an accurate fingerprint authentication
and fast authentication processing.
Accurate image extraction performance in less than
a second is another strong point of our UBio-X Slim.
200,000 Templates in 1Second
UBio-X Slim offers large memory capacity to store up to
500,000 users, 10,000,000 event logs as well as 50,000
image logs.
Additionally, various videos for the screen saver function
can be used.

UBio-X Slim 5" color TFT LCD screen provides
wide viewing angles with a special reinforced glass screen.
It's slim and elegant premium design matches
beautifully with any environment.
Support Multi Card
Technology
UBio-X Slim features 125KHz or 13.56MHz standard smart card support.
Enhanced Live Fake
Fingerprint Detection
UBio-X Slim, with our Live Fingerprint Detection(LFD) technology,
contains the know-how and technical skills of UNIONCOMMUNITY.
UBio-X Slim provides high security uncomparable with any current
fingerprint recognition terminal.
Model
UBio-X Slim
Authentication Method
Fingerprint/Card
Dust/ Water Resistance
X
Memory
Max Users
Card
(1:1) / (1:N)
500,000
Fingerprint
(Base on one finger enrollment per user)
1:1
100,000
1:N
100,000
Templates
Fingerprint
1:1
200,000
1:N
200,000
MAX Templates per Finger
2
MAX Finger per User
10
Logs
10,000,000
images
50,000
communication
with server
TCP/IP
other
USB
Wireless LAN(Wi-Fi)
Optional
Wiegand OUT
O
RS232
O
RS485
O
Wiegand IN
O
Display
LCD
5"Color Touch
Backlight
O
Card
125khz-EM
O
HID Prox
O
HID iclass
O
13.56MHz Smart Card
O
Embedded Camera
O
Keypad
Touch Screen
Function keys
SOFT
Door Phone
X
FP Sensor (Platen Area)
16.4 x 19.4mm
Resolution
500dpi
Dimension(W) X (H) X (D) mm
80 x 195.6 x 23.5 (Upper) / 54.67(Lower)
FRR /FAR
0.1% / 0.0001%
Operating Illuminance (lux)
X
Operating Temperature
-20 ~ 60℃
Opertating Software (Server solution)
UBio Alpeta
Mobile Access Card System(NFC/BLE)
Mobile Phone Specification
iPhone : iOS 10.0 or later / BLE4.2 or later
Android : Android 6.0 or later / Supports NFC
Security / Encryption
Azure Key Vault / AES-128
Distance / Range
Under 10cm (It may differ depending on smartphones)
Server Platform
On-Premise / Cloud