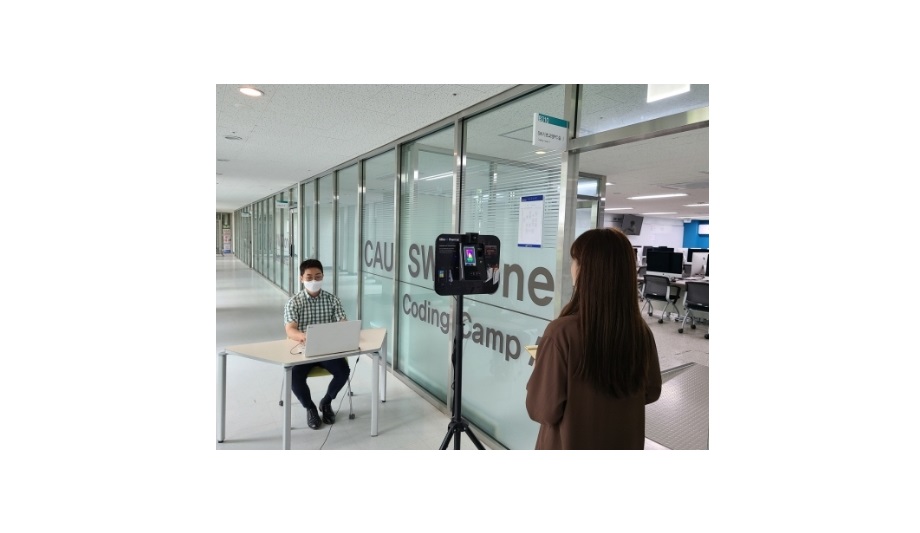 Chung-Ang University, one of the universities in Korea, announced that they would test-run the "untact face recognition device combined with body temperature detection system" at the test of the regular evaluation of TOPCIT (Test Of Practice in IT) on the 20th.
Trial at TOPCIT Test
TOPCIT is a test that evaluates actual competency required by software (SW) industrial sites and is being used in various ways, such as granting additional points when selecting human resources from public institutions, financial institutions, and large companies.
The Da Vinci SW Education Centre of Chung-Ang University plans to install the UBio-X Pro2, which measures body temperature, by recognising the faces of students entering and leaving the test site to prevent COVID-19 infection and safety of applicants. Candidates apply for non-face-to-face visits in advance and certify their entry on the same day.
Deep learning algorithms for large crowds
The face recognition system uses deep learning algorithms to authenticate a large number of people in a short time as it can be certified through various angles and up to 2 metres away.
Measuring body temperature is possible in conjunction with thermal imaging cameras and access can be restricted when abnormal body temperature is detected. "It is an opportunity to pre-emptively prepare for the post-corona era through the application of various untact systems," said Yoon Kyung-Hyun, director of the SW Educational department. "It is more meaningful since two students from the software department at Chung-Ang University are participating in the team in charge of the UNIONCOMMUNITY, which developed the face recognition system, through the industry-academic cooperation in the SW-centred university project."
source : sourceSecurity – Chung-Ang University announces UNIONCOMMUNITY UBio-X Pro2 trial for body temperature measurement and face recognition